St. Briget of Ireland
(451–525)
Patron Saint of Ireland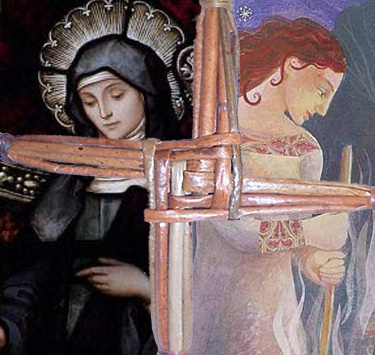 St. Briget of Ireland was an early Irish Christian nun, abbess, and founder of several monasteries. She is known for her hospitality, evangelistic fervor and the famed braided straw cross.

Even as a child it was already apparent that Briget had a calling as she showed a special love for the poor. She kept a secret store of clothes and food for them, and on one occasion when her mother sent her to collect butter, the child gave it all away. She even makes gifts to the poor from her father's property when there is nothing else available.

Briget consecrated herself to God at a young age, choosing a life of virginity, dedication to God and service to the poor. Briget's sanctity drew many others. When she was about 15 she settled with seven other like-minded girls near Croghan Hill in order to devote herself to God's service.

At Bishop Mel's request, Briget founded a convent at Ardagh, the first convent of strict religious observance to be established on Irish soil. It soon became a center of great activity. Thousands come to receive instruction in the Christian faith.

But Briget's most famous foundation is at Kildare, established on a generous grant of land from the king of Leinster. It is generally thought to have been a double monastery, housing both men and women, with Briget presiding over both communities.

The best-known custom connected with Briget is the plaiting of reed crosses for her feast day. This tradition dates to the story that she was plaiting rush crosses while nursing a dying pagan chieftain. He asked her about this and her explanation led to his being baptized.