Click here for all Pentecost+27 resources

Children's Messages

Sermons
---
Sermon Excerpt: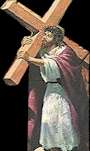 He Never Said A Mumblin' Word
Luke 23:33-43
by Rev. Thomas Hall

When assignments were being handed out at a recent ministerium, I was told to preach Luke 23:33-43. What a momentous passage. Jesus, King of another kingdom, has been impaled on a cross and is certainly feeling excruciating pain; yet he utters an absolutely kingly prayer: "Father, forgive them for they don't know what they are doing."
So I went right to work doing the usual preacher's gymnastics with the Bible—searching, pondering, and reading commentaries. And then it happened right in the middle of verse 34. Footnote "e." New Revised Standard Bible: "Other ancient authorities lack the sentence, "Then Jesus said, 'Father, forgive them; for they do not know what they are doing.' " To be honest, other manuscripts do include the prayer. But still. On Christ the King Sunday. When we are supposed to celebrate spiritual authority's triumph over earthly power and might.
Always some textual critic in the crowd to go and mess with our Bibles. So that's it? Jesus crucified with a bunch of thugs while the soldiers throw dice to get the last of his earthly belongings? Why couldn't the footnote been about some meaningless detail about the thieves? Why did it have to question the authenticity of this powerful prayer of forgiveness? Just cut Jesus' famous words out of the Bible? Isn't that the kind of kingship Jesus embraced?
What happens when we omit forgiveness from our own stories?