Sermon Excerpt:
Judge Not Luke 6:36-38 (see below)
by Rev. Frank Schaefer

Watch a two minute conclusion of this sermon (by F. Schaefer):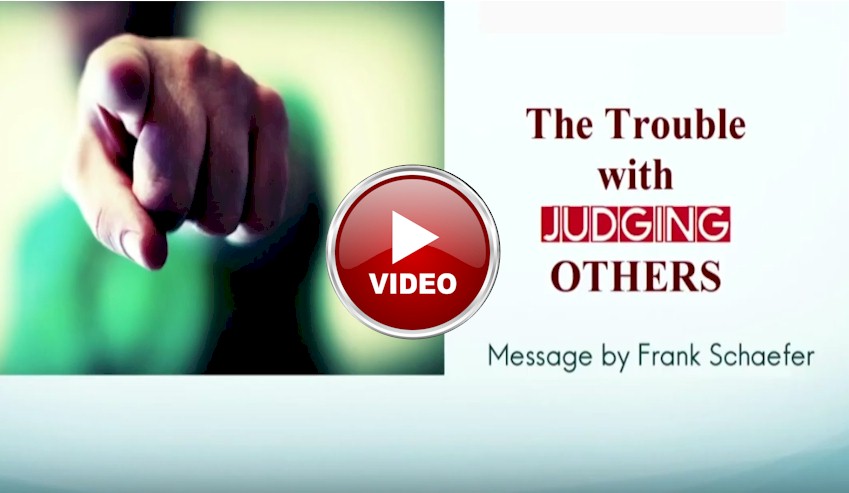 The trouble with judging others is that those who do, think they are better than others. The truth is: we arenít! We are all human beings with flaws and sins and if we assume to be better than others, that's pretty much the worst sin.
Jesus is saying don't judge lest you be judged because but the exact same measure that you measure somebody else you will be measured. So, be careful because if youíre judging others you're actually putting yourself in a very bad spot.
But if you have grace for others (and that's what the scripture talked about that we read in the beginning) by the same measure that you pour on others in terms of grace and love and compassion of forgiveness is going to be put on you. So that puts you in a good spot if you truly do that to others. This is an amazing principle, isnít it?

And another trouble with judging others is that, according to the way Jesus described God, God isn't even doing any judging. The God that Jesus proclaimed isn't judging us. The God who Jesus proclaimed has grace for us--unending mercy, forgiveness, love and compassion. Though God could be and would have every right to be judgmental, God chooses to have grace for us!
So, if you are judging somebody else, you're putting yourself above God who isn't even judging us. That's what's wrong with judging others. It's completely wrong, it doesnít make sense to do that as Christians...Subscribers: click here for full manuscript and more
_________________________________________

Not a subscriber yet? Click here to subscribe now and gain instant access to these resources plus an ENTIRE YEAR of weekly resources for only 39.95!!\