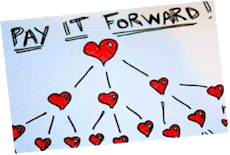 April 05, 2020 Paying it Forward
PowerPoint: Paying-it-Forward
Video: Film Trailer
Songs (See PPT for lyrics):
Give Me Your Eyes (Brandon Heath)
Brother (Need To Breathe)

While this parable definitely teaches us something about forgiveness, it also teaches about another principle that has been called: "Paying it forward!" This principle was popularized by author Catherine Ryan Hyde in her novel Pay It Forward (1999). In the year 2000, she founded the Pay it Forward Foundation, a non-profit that has been actively sought to put into practice this principle (the stories on their website are amazing). Her book inspired the Holywood film by the same name.

At this point I would like to present a short trailer of the film which explains Hyde's understanding of the "pay it forward" principle. [Play Video]

According to a Wikipedia article (1) Jesus' parable from Matthew 18 is at the root of the pay-it-forward concept: The King had shown the man mercy. It was an act of paying a good deed forward. The man shown mercy was now expected to show same mercy to other people, which he failed to do. According to this interpretation paying it forward is a requirement for those who have received God's forgiveness.

The Pay it Forward Principle is clear: You don't pay love back; you pay it forward. So, what can we do to pay it forward to people?...
Click here to subscribe now for a whole year of resources 39.95!!

---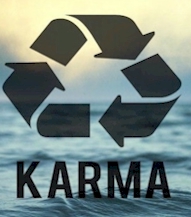 April 12, 2020 Karma - Sowing Good Seeds
Scripture Readings: Proverbs 11:27, Job 4:8, Galatians 6:7, James 3:18
Download the PowerPoint Presentation
Video: A Story about Karma
This is what our conservative friends at biblereasons.com have to say about karma:

Many people ask is karma biblical and the answer is no. Karma is a Hinduism and Buddhism belief that says your actions determine the good and the bad that happens to you in this life and the afterlife. Karma is associated with reincarnation, which basically says what you do today will determine your next life."

With Karma you get what you deserve. In Christianity Jesus got what you deserve." "Grace is the opposite of Karma."....

...However, the biblical metaphors for reaping what you have sown are virtually a description of Karma! The verses they list following this description are the ones we just heard read. It's amazing to me to see how these conservative evangelicals are so narrowly focused on their particular theology that they don't even make sense anymore....


Click here to subscribe now for a whole year of resources 39.95!!